Your cart is currently empty
Sale Item
Luna 8

Luna 8 is a handheld electronic video magnifier from Zoomax low vision aids. The compact body, lightweight design, and 8 hours extra long battery life is perfect for use everywhere. Whether reading a book or newspaper at home, using it to study for school, or taking it with you to work, Luna 8 is the perfect companion for magnifying things you want to see.

High definition image
8 hours long battery life
Slim, light and portable
Tactile buttons
Adjustable reading line and masks, 4 types in total
Distance view
Storage up to 200 images
Connect with computer/TV/monitor
Reading stand

Extreme Simplicity – Luna 8 Gets Back To Basic

Enjoy coffee, sunshine and simple life. If what you need most from a video magnifier is simplicity and great image quality, then Luna 8 is for you. There are no complex advanced features to worry about. Just good old-fashioned zoom in and out, high contrast to assist with reading, and a camera button for taking photos of things to look at later. Luna 8 powers up fast too. Perfect!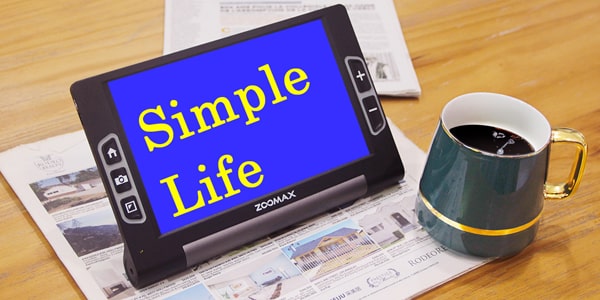 8 Hours Extra Long Battery Life

8 for Luna 8 is more about the screen size. Outstandingly, your Luna 8 can get up to 8 hours of reading time on a single charge. As one of the video magnifiers with the longest battery life on the market, Luna 8 brings you a longer and more enjoyable reading experience. Featuring how sharply it displays the texts and images, Luna 8 is your best visual companion.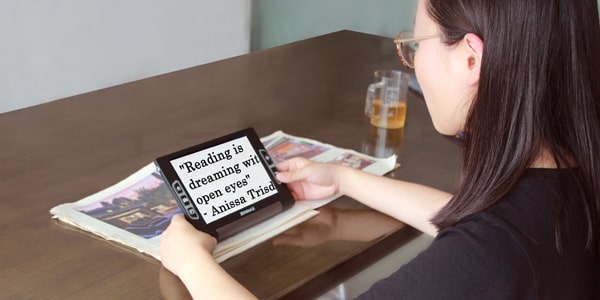 Use, Before Realizing How To Use

Learning? Tutorial? No need! Using Luna 8 is simpler than using a calculator, and in 1 minute you can master everything. All the basic functions, e.g. zooming in/out, high contrast display, and image freezing, are accessible via a press on large physical buttons. All the settings have icons displayed in the Menu, which you can enter with one press of the Home button. No problem!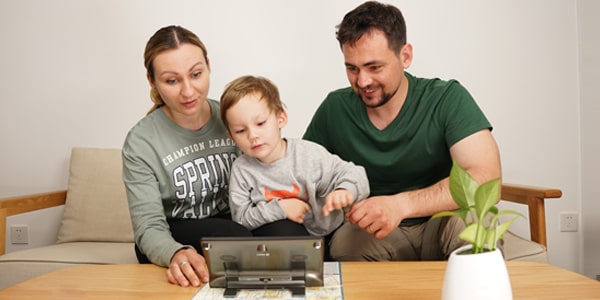 Use Luna 8 Everywhere On The Go

Take Luna 8 anywhere you want to go: at home, to the office, or to school. Although Luna 8 is easy to use for reading, it is also highly functional for outdoor life. It's light, and easy to carry around; it has distance viewing that enables you to see the menu board in restaurants, or the slides projected in the conference room. With extraordinary 4.5 hours battery life, Luna 8 is your perfect portable magnifier for continuous use.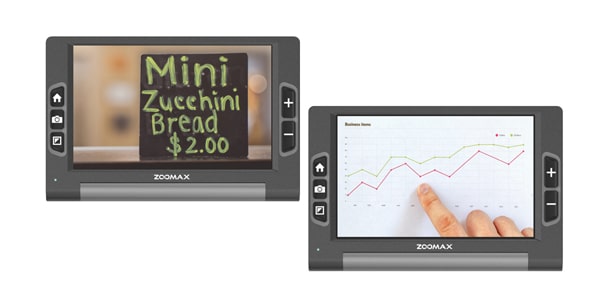 Keep Up With The Modern Life

Luna 8 suits the style of everybody. The slim, matte, textured finish with white on black buttons, just like the cool tech gadgets most people will enjoy. Instead of an optical magnifier, this electronic video magnifier brightens your look. It's stylish and confident, while enhancing your visual life.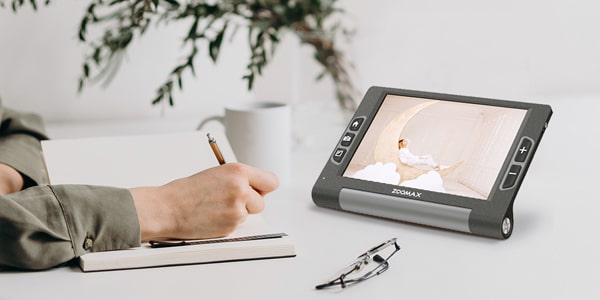 Specification

Magnification: 3X - 19X
Display Modes: Full color and 10 high contrast color modes
Screen: HD 8″ screen
Screen Resolution: 1280 x 800p
Camera: 13 mega pixels
Focus: Auto focus
Image Storage: Up to 200 images
Reading Line and Masks Ajustable: horizontal/vertical reading line and masks
Connect to TV/monitor: Through HDMI cable
Connect to PC: Through USB cable
Charging Time: Less than 3 hours
Battery Life: 8 hours continuous use
Weight: 500g/1.1lbs.
Dimensions: 218 x 143 x 11mm/8.6 x 5.6 x 0.4″
Power Adapter
Input: 100 - 240V
Output: 5V/3A
Operation and Storage Condition
Humidity: < 70%
Temperature: 10 – 40 °C
SKU: Luna 8
Currently there are no reviews for this product. Share your opinion with others, be the first to write a review.
Please fill out the form below to request a product quote. A representative will respond to you via email or phone as soon as possible.