Your cart is currently empty
Mattingly Wired Mouse CCTV
Mattingly Wired Mouse CCTV

Mattingly Wired Mouse CCTV is a powerful, portable, hand-held digital reading aid designed for people with low vision. The size of a computer mouse, it connects directly to any TV/monitor with video input in seconds, allowing you to read newspapers, magazines, recipe, cards and even medicine labels easily. Compatible with any TV/Monitor with a RGB Video Input.

Three (3) Viewing Modes

Full Color
High-Contrast Positive (Black on White)
High-Contrast Negative (White on Black)

Seven (7) Levels of Digital Magnification

17.5x to 70x Digital Zoom on a 20" TV/Monitor
Larger TV/Monitor will Increase Level of Magnification

Other Features

Ability to Freeze and De-Freeze current image
Unique Gliding Wheel Mechanism
Light Weight
Convenient & Ergonomic (feels like a computer mouse)
Easy to Use - Plug and Play

SKU: LV-Wired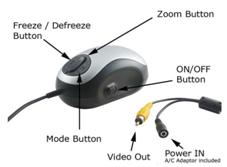 Currently there are no reviews for this product. Share your opinion with others, be the first to write a review.
Please fill out the form below to request a product quote. A representative will respond to you via email or phone as soon as possible.