Your cart is currently empty
BIF8plus

The BIF8plus IR bed control enables the wireless operation of an electrically adjustable bed with the help of an infrared remote control or an environmental control device. The BIF8plus is plugged into the motor control of the bed instead of or parallel to the wired manual control. BIF8plus provides up to eleven different switching functions for this.

Radio or Infrared?

With our various BIF8plus variants, we can control your bed with infrared or radio, adapted to your needs. Due to our constant further development of our CSS products, we will soon be able to present our new remote control in our shop, which brings many new extensions with it for simple and individual setup and operation.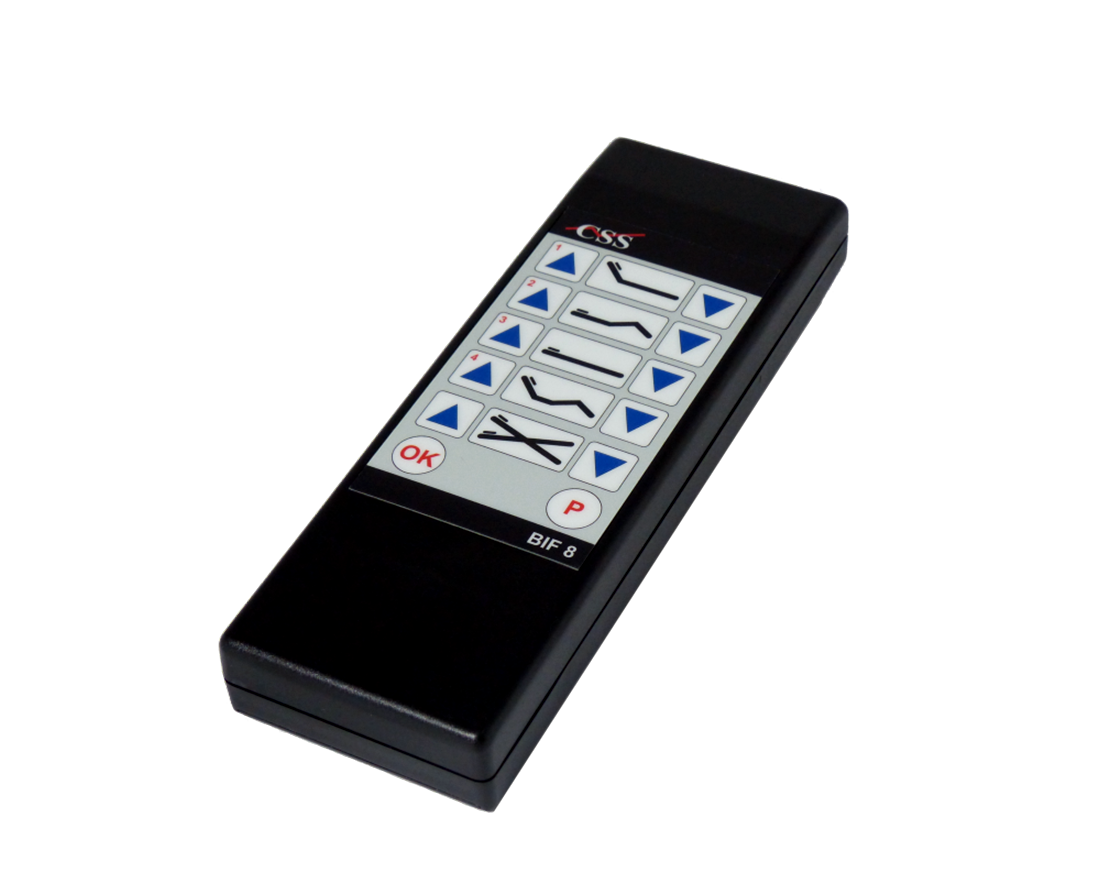 Technical Specifications

Power supply: mains unit 100-240 V AC, stab. 12 V DC / 700 mA, IEC 60601-1 compliant
Switching contacts 48 V DC / 5A
11 functions, 1 activation contact
Infrared coding 38 KHz, RC5 code
Housing IP65 (protected against jets of water from all directions), RAL9002, front clip for mounting
Complete set with all needed cables, Y-box, Y cable or hand-held remote control
Dimensions: 145 x 105.9 x 45.8 mm
Available for beds of the companies Bock, Völker, Burmeier, ISKO Koch, Sacon and many more with different drive variants.
Linak drives 8 pin DIN-connector
Linak drives RJ50 / 10 pin head-connector
Dewert drives 5-10 pin DIN-connector
Dewert drives 13 pin DIN-connector
ILCON drives 5-10 pin DIN-connector
Linak or Dewert drives with bus system
Other drives like limoss, OKIN, TiMotio and more
SKU: 20290-? - Bed Interface BIF8plus Infrared bed control unit Package, for different bed brands
SKU: 20324 - IR Handset for BIF8plus10 Channel Handset
SKU: 20118-? - Bed Interface BIF8plus Switch Control unit Package, for different bed brands
Currently there are no reviews for this product. Share your opinion with others, be the first to write a review.
Please fill out the form below to request a product quote. A representative will respond to you via email or phone as soon as possible.