Your cart is currently empty
SMPL Motion Alarm Kit

Includes Room Motion Sensor and Caregiver Pager
Now you don't have to worry when they enter unsafe areas, wander off or get out of a bed or chair when you're close by to help.

Get alerts when someone enters a room, hall or unsafe area

Now you don't have to worry when they enter unsafe areas, wander off or get out of a bed or chair when you're close by to help.
Designed to prevent seniors with dementia or Alzheimer's or children from entering unsafe areas or wandering, and keeping the disabled and visually or hearing impaired safer.

Detects any movement within 20 ft. (6m) of sensor


Hallway Monitoring - Bathroom Fall Prevention


Fall Prevention - Danger Prevention

Works right out of the box.

Kits arrive ready to work and no tools are required. SMPL Motion Sensors and smpl Pagers are paired right out of the box.
Any movement triggering the Motion Sensor alerts the caregiver Pager to sound, vibrate and flash, ensuring the caregiver is notified even when sleeping. There are dozens of sounds to select form as well as four volume levels. The Pager can be turned off anytime when not monitoring.
Wander Alert
Wander Alert Motion and Door alarms for dementia, Alzheimer's and memory loss are now made by the smpl™. Wandering seniors is the primary fear for any caregiver.
Caregivers receive sound and vibrating alerts when a door opens or motion is detected in a hallway or room.
Wireless motion and door alarms for dementia patients are a preferred solution since the portable alarm alerts the caregiver wherever they are situated in and around the home and does not startle the care recipient.
Senior door alarms, designed for the wandering elderly, are easy to install, do not require internet, Bluetooth or wiring, and no additional fees are required.
The portable alarm can be clipped on a caregiver's clothing and set to ring and vibrate upon an infraction of the monitored doors or areas. The alarm is battery operated and effective within 100-250 feet of the sensor (transmitter) installed on a door, window, cabinet or room/hallway.
Additional smpl Door or Motion Sensors (up to 20 sensors) can connect with each alarm to expand coverage for increased safety. Additional alarms are also available for multiple caregivers, sold separately and in kits.
Hassle-free Wander Alert products are set-up and installed easily using the provided double-sided tape, and therefore portable if you need to change the installation location. The devices are already paired/connected right out of the box when purchased in kits. Purchased separately, connecting is accomplished in three easy steps.
SMPL's dementia and Alzheimer's sensors and alarms designed to prevent wandering are a practical, low cost solution to increase safety and peace of mind for caregivers/family members living at home.
SMPL Room Motion Sensor alerts caregiver when motion is detected

Motion Sensors are installed on a wall 3-4 ft. from floor in any room or hallway.
-Install in minutes with pre-installed double-sided tape, or the bracket can be used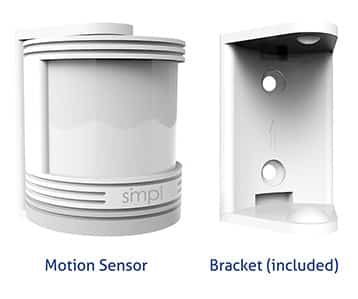 SMPL Motion Sensor Technical Specifications (drop down menu)

Dimension: Height 1.8in X Width 1.37in
Dimension: Height 1.5in X Diameter 1.23in
Transmitting distance: 80~100m (in the open area)
Detecting range: 4 meter x 170º
Transmitting frequency: 433.92MHZ 士 200KHZ
Time interval between 2 detections: 5s
Operating current: 4uA(standby) 10mA(Transmitting)
Operating voltage: 3V DC
Battery type: 3V CR2450 button battery
Low power alert (Yes or No): Yes
Waterproof (Yes or No): No
Rotation angle: 360 degree (with mount bracket)
Working temperature: -10℃+50℃
Working Humidity: ≦85%

Package Contents

SKU: 58021
Currently there are no reviews for this product. Share your opinion with others, be the first to write a review.