Your cart is currently empty
SMPL Door Alarm Kit

Includes Open Door Sensor and Caregiver Pager
Now you don't have to worry when they wander off or access a cupboard with dangerous contents when you're close by to help.

Designed to prevent seniors with dementia or Alzheimer's or children from wandering, or increasing safety for the disabled and visually or hearing impaired.


Door Monitoring


Cupboard & Window Monitoring

Works right out of the box

smpl Motion Sensors and smpl Pagers are paired right out of the box.
Any movement triggering the Motion Sensor alerts the caregiver Pager to sound, vibrate and flash, ensuring the caregiver is notified even when sleeping. There are dozens of sounds to select form as well as four volume levels. The Pager can be turned off anytime when not monitoring.
Wander Alert
Wander Alert Motion and Door alarms for dementia, Alzheimer's and memory loss are now made by the smpl™. Wandering seniors is the primary fear for any caregiver.
Caregivers receive sound and vibrating alerts when a door opens or motion is detected in a hallway or room.
Wireless motion and door alarms for dementia patients are a preferred solution since the portable alarm alerts the caregiver wherever they are situated in and around the home and does not startle the care recipient.
Senior door alarms, designed for the wandering elderly, are easy to install, do not require internet, Bluetooth or wiring, and no additional fees are required.
The portable alarm can be clipped on a caregiver's clothing and set to ring and vibrate upon an infraction of the monitored doors or areas. The alarm is battery operated and effective within 100-250 feet of the sensor (transmitter) installed on a door, window, cabinet or room/hallway.
Additional smpl Door or Motion Sensors (up to 20 sensors) can connect with each alarm to expand coverage for increased safety. Additional alarms are also available for multiple caregivers, sold separately and in kits.
Hassle-free Wander Alert products are set-up and installed easily using the provided double-sided tape, and therefore portable if you need to change the installation location. The devices are already paired/connected right out of the box when purchased in kits. Purchased separately, connecting is accomplished in three easy steps.
SMPL's dementia and Alzheimer's sensors and alarms designed to prevent wandering are a practical, low cost solution to increase safety and peace of mind for caregivers/family members living at home.
SMPL Door Sensors alerts caregiver when a door is opened

Works on any door, the Magnet and Sensor can be installed as much as ¾ inch apart (Exception: Sensors do not work well if door is metal)
Install in minutes with pre-installed double-sided tape
Signal is sent to the Alarm when magnet and sensor are separated by more than ¾ inch.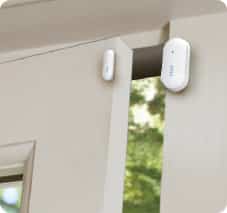 SMPL Door Sensor Technical Specifications (drop down menu)

Dimension: Height 1.8in x Width 1.37in
Operation range: 80~100m (in the open area)
Radio frequency: 433.92MHZ 士 200KHZ
Operating current: 3uA(standby) 15mA(Transmitting)
Operating voltage: 3V DC
Battery type: 3V CR1632 button battery
Low power alert (Yes or No): Yes
Waterproof (Yes or No): No
Installation gap and height: ≦0.4 inch ≧3.3 feet
Working temperature: -10℃+50℃
Working Humidity: ≦85%

SMPL Portable Alarm alerts caregive wherever they are

Clip on a belt or pants (removable clip)
Place in Pocket (size of deck of cards)
Wall Mount option
Place on a desk or table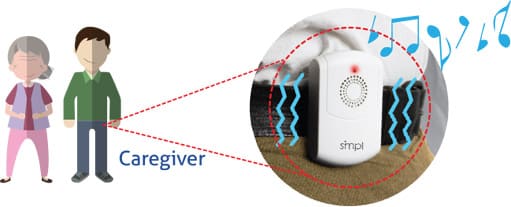 SMPL Alarm design is – SIMPLE

Designed for ease-of-use and set-up in minutes

Hear and feel 10 seconds of sounding and vibrating alerts

Choose from 50 different alert sounds which can be set differently (or the same sound) for each sensor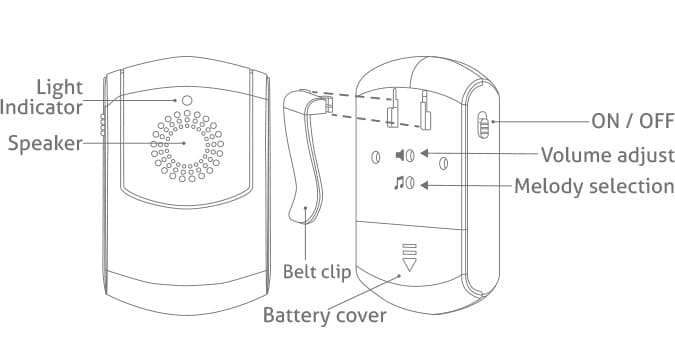 To connet Sensors to Alarms follow these three easy steps

1. Select the Melody and Volume level prefered using inset buttons shown
2. Press the Melody Change button for 5 seconds to enter setup mode
3. Trigger the specific Sensor your setting up quickly and your all set!

SMPL Portable Alarm Technical Specifications (drop down menu)

Parameter: Vibrating receiver
Voltage: 3V DC power ( AAA batteries*2 )
Operating temperature: -15 °C ~ 55 °C
Transmission distance: 100m in open air operating
Operating frequency: 433.92MHZ 士 200KHZ
Volume: 25-110dB

Package contents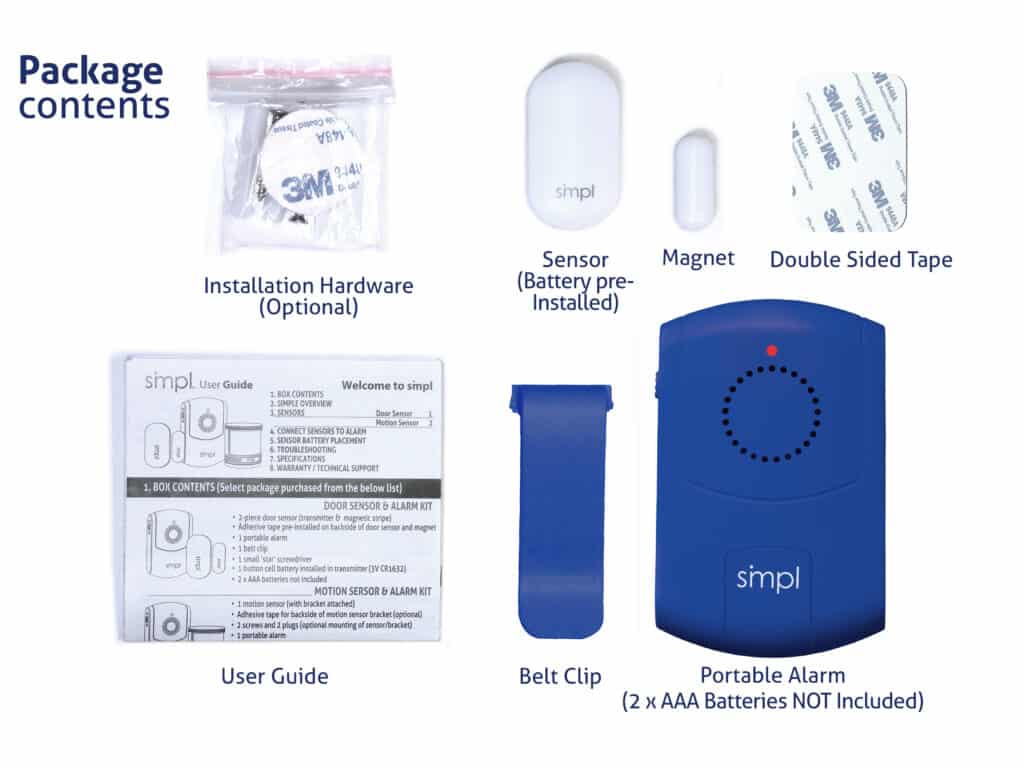 SKU: 58020
FAQ

Q: What is the smpl Wander Alert product line all about?
A: smpl Wander Alert products are easy to use and install door and motion sensors, and a portable alarm, to help caregivers and family members monitor a care recipients movements inside the home to help increase safety and peace of mind for all concerned. Caregivers receive infraction alerts when the Door and/or Motion sensors are triggered by motion. The smpl alarm is portable enabling the caregiver to receive alerts wherever they're situated in or around the home (150-250 feet from the sensors). No Wifi, no monthly fee and easily installation (no wiring), and its an expandable system.

Simply place the Door Sensor on any door, window or cabinet door in your home, or the motion sensor in any room or hallway in your home and you'll get an alert on the portable Alarm phone when the sensors are triggered (infraction).

Do I have to purchase the kit? Or can I buy it piece-by-piece?
smpl Wander Alert products can be purchased in a kit or the sensors and alarm can be pouched separately to expand monitoring points or give alarms to additional caregivers .

How do I control Alarm sounds?
You can easily increase the volume or change the alarm melody by following a few easy steps in the User Guide.

How long do the sensor batteries last? Alarm batteries?
The Sensor pre-installed batteries last between 6 months and one year, depending on frequency of infractions. Alarm batteries also 6-12 months, depending on frequency of use.

I have more questions- who do I contact?
Please email support@smpltec.com or call 1-833-237-4675 x1 for technical; support.

Currently there are no reviews for this product. Share your opinion with others, be the first to write a review.