Your cart is currently empty
Newtral 3 Mouse
Price:
0.00
Price varies based on options.
Newtral 3 Mouse - Medium

Wired or Wireless. The black Newtral 3 Mouse is a stylish ergonomic mouse, that features an enhanced design. The Newtral 3 offers two grip options, featuring a Precision Grip and Ergo-Grip with a full hand and wrist support covered by a soft gel pad. The black Newtral 3 Mouse is equipped with 2.4 GHz wireless technology, so you don't have to worry about tangled wires and cables on your desktop.

Ergonomic Design: This mouse reduces wrist and forearm pronation through the concave depression on the thumb side of the mouse combined with the 33 degree slope off the horizontal from the pointer finger to the
fifth finger position.

Reduces Grip Requirements: The slanted semi-fist shape design allows gravitational force on the hand to be employed to provide the majority of the control required to precisely move the mouse.

Gripping Options: With the Newtral 3 Mouse, you will have two grip options: the Precision Grip and Ergo-Grip (attachment flange). The Ergo-Grip design with detachable palm support keeps the underside of the pinky finger and palm off the surface of the desk to reduce friction.

Reduces Pressure of Your Wrist: The soft gel applied to the Ergo-Grip flange support increases the size to bear your hand weight and reduces the pressure of your wrist.

Programmable Buttons: With 6 entirely programmable buttons on the mouse, you can customize how you navigate. Driver installation is needed to program the button functions, and is only compatible with Windows systems.

Sizing: Using a ruler or tape measure, measure the distance from the crease in your wrist to the tip of your ring finger. This mouse will accommodate measurements between 6.75 - 7.6" (17.2-19.3 cm).

Installation: Plug-and-play for default function. Driver is needed to program function of buttons, and is compatible with Windows systems only.
Specifications

Compatibility: Windows XP; Windows 2000; Windows Vista; Windows 7; Windows 8; Windows 10; Mac OS 9+; Linux
Resolution: Adjustable DPI sensor, and can be set to: 1000, 1200, 1600 DPI
Programmable Buttons: Features 6 programmable buttons that are customizable with driver software installation

Dimensions

Length: 4.5 inches (11.4 cm) without palm support; 6.6 inches (16.8 cm) with palm support
Width: 3.1 inches (7.8 cm) without palm support; 4.1 inches (10.4 cm) with palm support
Height: 2.1 inches (5.3 cm)
Weight: 3.88 oz (110 g) including battery without palm support; 5.29 oz (150 g) including battery with palm support
Range: 32.8 feet (10 m)
SKU: N300BCM - Medium Right Wired
SKU: N300BWM - Medium Right Wireless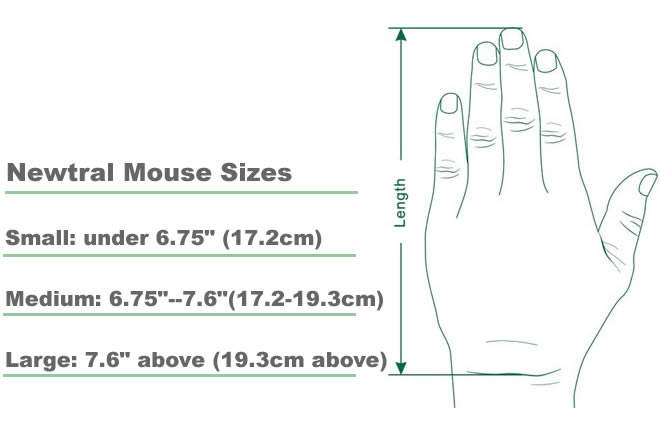 Currently there are no reviews for this product. Share your opinion with others, be the first to write a review.
Please fill out the form below to request a product quote. A representative will respond to you via email or phone as soon as possible.