Your cart is currently empty
PANDA HD Desktop Magnifier
PANDA HD 19" Desktop Magnifier

Zoomax Panda HD with the high specification and compact design offers the most attractive advantages of a full desktop electronic magnifier,crisp image in high definition, intuitive use, space-saving and movable screen design. Are you ready for the large viewing experience?
Continuous crisp image at all

Equipped with h level igh definition camera and 19'' screen, Zoomax Panda HD provides crisp image for full page reading at all levels. You can do homework, play hobbies or read letters from kids at any time. It is very clear.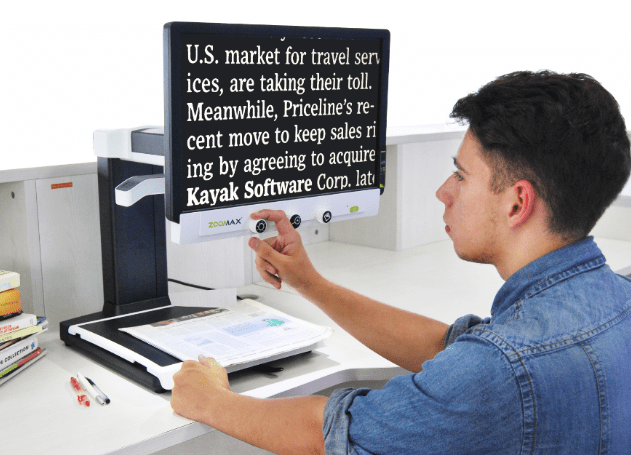 Easy to use for anyone

No bother of memorizing again and again; anyone, especially senior people can easily zoom in/out, change high contrast colors and brightness by using 3 big and intuitive buttons. The placement and function of all knobs is based on years of low vision research, creating the most user-friendly interface accessibility.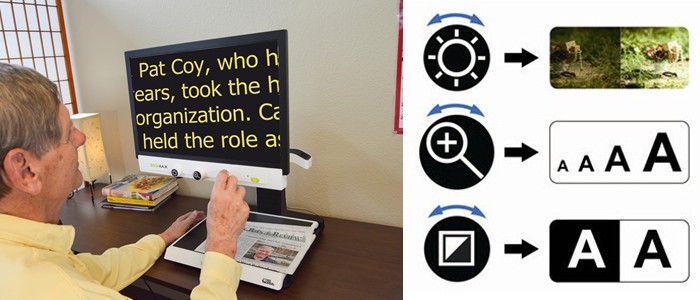 Unexpected space-saving and eye-catching look

Just plug and read. The compact structure of Panda HD fits the apartment perfectly. High contrast black and white design both on appearance and buttons catches your eyes anywhere. It is easy to reach and control for visually impaired users compared with most desktop video magnifier.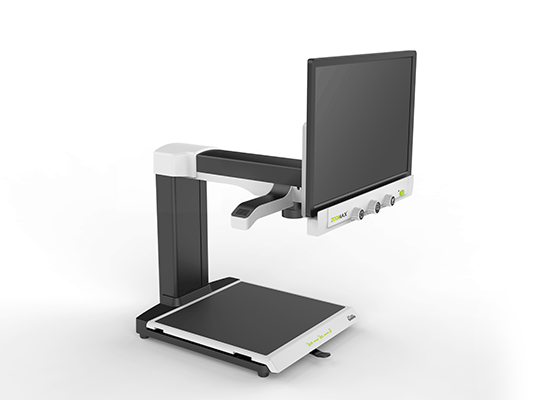 High specification, affordability, better experience

With upgrades both on hardware and software, the high-quality desktop CCTV Panda HD offers excellent reading experience while at an affordable price.

Panda HD Specifications

Camera: High Definition, Auto focus, Resolution ratio: 1280 x 720p
Magnification Range: 2x – 70x
Screen: 19'' LCD screen, movable
17 color modes:
Favorite color modes: Full color + 4 favorite color modes
Functions: Zoom in/out; Switch color mode; Adjust brightness; Save recent setting
Free working height under the camera: 26 cm
Total weight: Approximate 17.3 kg

SKU: PANDA-HD19

Currently there are no reviews for this product. Share your opinion with others, be the first to write a review.
Please fill out the form below to request a product quote. A representative will respond to you via email or phone as soon as possible.