Your cart is currently empty
Great Action Adventure
Visual learners will have fun learning about verbs and related nouns with The Great Action Adventure!
Includes full-motion video of verbs and sign language

Fully-customizable play and learning areas

Great for visual learners and distractable students

The Great Action Adventure is an interactive CD-Rom which allows students to have fun learning about verbs. Students as young as 2 can easily play the action videos by themselves and learn the associated nouns or signs. Older children who already know common nouns and verbs, can use a more-advanced setting to learn appropriate verb tenses.
Because some students learn through play, and others learn better in a highly-structured setting there are two separate areas on the CD - a play area and a structured teaching area. Both areas are fully-customizable for each student. You have the ability to choose which words are taught, how they are presented, and how the student is reinforced and prompted. Skills taught include receptive noun and verb matching, sign language, word matching and verb tenses.
As shown below, there are separate teacher and student areas. From the teacher area, you set up the program for individual students and track progress. From the student area, students can choose to play or do a lesson. Students cannot exit their area without knowing a secret key combination.
Sample Teacher Panel
Main Student Panel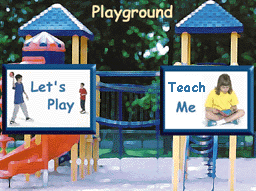 Let's Play Area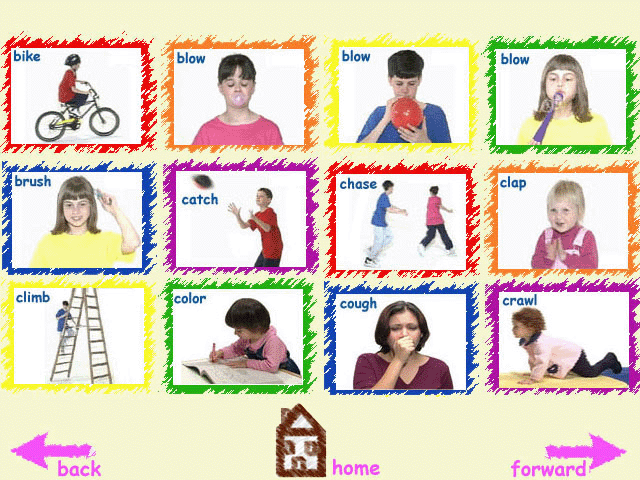 Kids love the Let's Play area. Here they can scroll through 140 different videos of verbs (over 70 unique verbs).
Navigating is simple with the arrow heads at the bottom of the screen or the alphabet bar at the top. You can
control how many verbs are in the play area, and whether or not the alphabet bar, related nouns and sign language buttons appear. If your computer has a touch screen, children too young to use a mouse can simply touch a verb on the screen and watch it come to life.
Shown above is a sample screen from Let's Play. In this example, the color scheme is set to primary colors. You can change this to plain blue, however, if it is too distracting.
When a student clicks on a verb in the play area, a screen similar to the one below will appear. A video of the verb will play, and the student can see related nouns or sign language.
In this example, the present tense is being taught. You can also choose to have other tenses taught, such as "going to cut", "cutting" and "cut". Learning tenses with video is much easier than learning with still flash cards.
Teach Me
The Teach Me area of The Great Action Adventure can be fun too. You choose ahead of time how the student is reinforced and how often. Kids will love the animated reinforcers and sound effects. Of course, if these reinforcers are too distracting, you can always select the picture or audio rewards instead. Prompts fade in or out depending upon the student's success rate. This helps to build the student's confidence and reduce frustration.
As shown in the sample screens below, there are 6 different lessons that students can take. For each of
these lessons you can specify which words the student needs to work on, whether an item is already mastered, and how the student is prompted, corrected and rewarded. The student's progress is tracked and new words are introduced when the student is ready.

In the receptive verbs lesson, students are given a spoken command such as "find stand", "touch stand", or "where is stand?" Initially there will only be one picture to choose from, so the student should be able to answer correctly. After several successes, the number of choices will increase to two. If the student begins to have difficulty, the program will prompt the correct answer or reduce the number of choices. The number of pictures on the screen will increase up to a number which you specify (for example, 4)

You have complete control over what command is given, how the student is prompted, how quickly pictures are increased and which verbs are taught. You can also select how the student is reinforced and how often.

The receptive nouns lesson is set up like the receptive verbs program. The nouns that are taught are all related to verbs. For example, foods that you eat or things that you blow. As with the verbs program, you can select the items that you would like to teach and the order in which they are taught.

In the verb sight words lesson, students drag the written word to the corresponding picture. As with the other lessons, initially there is only one choice on the screen. Choices increase as the student is successful.

The noun sight word lesson is just like the verb sight word lesson. Students drag the written word on top of the correct picture.

The verb tenses program teaches present, past and future tenses. First a video will play either partially, half way through, or all of the way. The computer will then ask, "What is he doing?", "What is he going to do?", or "What did he do?" Students must complete the sentence by dragging the correct word to the blank spot. As with all other lessons, you can select how often students are prompted and rewarded, and how quickly new verbs are introduced.

The sign language lesson plays a video of a noun or verb sign. The student must then click on the corresponding picture. As with all other lessons, you can select which signs are taught, and how quickly they are introduced.
What do I need to run the CD?

Pentium 166 PC or higher running Windows 2000, XP, Vista or Windows 7/8.

Macintosh OS X version 10.2 or higher.

CD-Rom drive


Great Action Adventure - Mac/Win
SKU: GAA
Currently there are no reviews for this product. Share your opinion with others, be the first to write a review.
Please fill out the form below to request a product quote. A representative will respond to you via email or phone as soon as possible.