Your cart is currently empty
Picture This... Professional Edition
Picture This... Professional Edition


Picture This... Pro , with over 5,000 photos, contains a powerful formatting program which allows you to print any size card, a phonetic and word search engine, plus many other features which are described below. Any of add-on photo collection CDs can be used alone or combined with Picture This... Pro.


What's Included on the CD?

Picture This... contains an easy-to-use program that allows you to format photos into various size flash cards with or without text. You can also create lotto boards with different colored borders. In addition, you can easily add your own words or sentences so that the cards will be tailored to your student's needs.

Picture This... Pro also allows you to do the following:


Search phonetically or by word

Print labels in English, French, German, Spanish or Italian

Easily move and copy pictures

Print any custom-sized card with or without colored borders

Print colored labels above or below the picture


Use the clipboard to copy pictures into and out of Picture This...

Picture This... Pro contains over 5000 high-resolution photos shot against a plain background. The photos are sorted into the following categories: actions, animals, bathroom, bedroom, body, buildings, chores, clothing, colors, electronics, emotions, food, furniture, health, holidays, household, kitchen, lineart, math, money, music, nature, opposites, people, places, prepositions, rooms, school, sequences, shapes, sports, time, tools, toys, travel, vehicles, "what's different?" and "what's wrong?".


Overview of Features:

5000 Photos against a plain background

38 of photo categories

Search by Category

Change or Add Labels

Add Your Own Foreign Languages

Print Labels on the Front or Back

Print Personal Photos

Adjust Card Size

Print Border Colors

Print Foreign Languages

Print Colored Labels

Drag and Drop

Copy and Paste

Search by Word

Search Phonetically

Search by Initial, Medial and Final Position Sounds


Create Articulation Cards




What can I do with the cards?

The flash cards are great for picture schedules, communication boards, and for teaching matching skills, reading skills and receptive or expressive vocabulary, and articulation cards




What do I need to run the CD?

For Picture This... Professional Edition you need a PC running Windows 98, ME, 2000, XP, Vista, or Windows 7; or a Macintosh running Mac OS X 10.2 or higher.


A printer (preferably color)


A CD-ROM drive


Picture This... Professional Edition - Mac/Win
Sample Photos from Picture This...
Shown below are a few samples from the CD. Just click on the picture to bring it up in its own window. You can then use the print function from your browser.
Keep in mind that the photos are copyrighted by Silver Lining Multimedia, Inc. and are intended for educational purposes only.
You are not permitted to:
Sell or redistribute the photos in any format.

Use any of the photo images related to identifiable individuals or entities for any commercial purposes or in a manner which implies their endorsement of or association with any product, service, or entity

Use specific government, company or persons' names, initials and emblems for any commercial purposes or to express or imply endorsement or sponsorship of any commercial product, service or activity

Create obscene or scandalous works, as defined by the Federal Government at the time the work is created, using the photo images or any modification of the photo images

Use the photo images in electronic format, including on-line use and multimedia applications.
---
| | | | | |
| --- | --- | --- | --- | --- |
| Actions | Animals | Bathroom | Bedroom | Body |
| Buildings | Clothing | Colors | Electronics | Emotions |
| Food | Furniture | Holidays | Household | Kitchen |
| Line Art | Music | Nature | Opposites | People |
| Places | Prepositions | Rooms | Sequences | Shapes |
| Sports | Tools | Toys | Travel | Vehicles |
The Picture This Professional Edition contains the following additional categories:
| | | | |
| --- | --- | --- | --- |
| Health | What's Different? | What's Different? | What's Wrong? |
---
Sample Screens from Picture This... Pro
With Picture This... Pro, you can search either by category, as in V3.0, or you can simply type in the word that you are interested in finding. This screen shows the results of a search for "ball".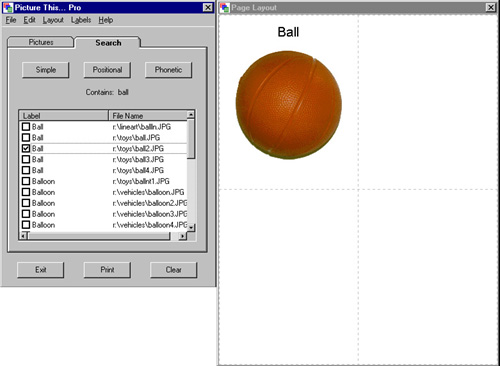 The following screen demonstrates how Picture This... Pro allows you to search phonetically for initial, medial or final sounds.
With Picture This... Pro, you can print labels in English, French, German, Italian, or Spanish. You can also enter and save labels in any other language of your choice.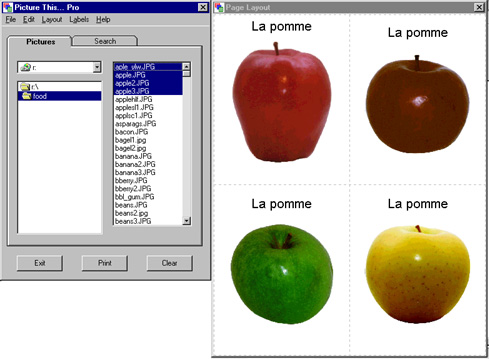 ---
SKU: PT-PRO
Currently there are no reviews for this product. Share your opinion with others, be the first to write a review.
Please fill out the form below to request a product quote. A representative will respond to you via email or phone as soon as possible.